GoDaddy Bookkeeping Coupon
updated for October 2023
Pay 40% less
to use GoDaddy's Online Bookkeeping software. Be sure to choose a long term to save considerably more cash, because the second term will renew with a regular price.
---
GoDaddy Online Bookkeeping
GoDaddy's online bookkeeping service is specially designed for users that are looking for jump from using cluttered spreadsheets and disorganized receipts to a more streamlined, de-cluttered platform.

Users can now use GoDaddy's online bookkeeping to create visually pleasing, highly effective branded receipts and invoices as well as estimates in half the time. Plus, their bookkeeping solutions can also provide users with a complete source for tracking their tax information, expenses and time.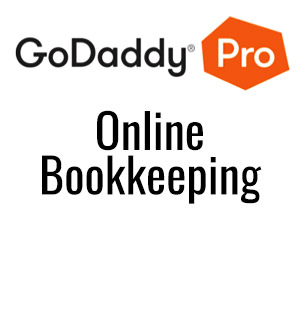 Moreover, GoDaddy's online bookkeeping system also integrates a smartphone feature, an iPhone application for generating invoices on the go via your smartphone and/or tablet.

And because of the fact that it is a cloud-software accounting application – you don't have to every worry about updating it for your domain, it is always updated and all your data is consistently backed up.
GoDaddy – Online Bookkeeping Packages and Pricings
GoDaddy has designed 3 bookkeeping packages for all sorts of users. Mentioned below are short details of each package: GoDaddy has also introduced a first discount for all paying customers who subscribe for their online bookkeeping packages.
However, similar to all of their other types of hosting and domain services, users have to make a month to month payment for their packages.
The Get Paid Package
– This is specifically designed for users who want to create invoices and receipts. They can also create estimates, incorporating the use the package's expense tracking feature. With a low price of $4.99 per month, users can efficiently and effectively generate financial reports for the present year, but no for past years.
The Essentials Package
– Using GoDaddy's Essential online bookkeeping service, you can effectively add all previous years' reports and estimate to your current year. And by just paying $9.99 per month you can efficiently add your scheduled tax sheets, sales tax reports, worksheets, bank feeds and Schedule C reports.
The Premium
– In just $14.99 per month you can incorporate all reports for all years and add recurring invoices.
Flexibility and Convenience of Use
It is important to understand that GoDaddy's online bookkeeping software is quite basic, which means you don't really have to be a tech guru to understand anything. And for the most part, using the software is pretty simple.
However, if you are used to robust accounting techniques, you might take some getting used to the bookkeeping software. But for eBay and Etsy users (who primarily used spreadsheets), it is more than likely that using the software will be a cake walk for you guys.
Setting Up
– Before you proceed towards setting up the program, you will welcomed by GoDaddy's short survey, which you don't have to watch all the way to the end. The process for setting up is a bit annoying, it is easy, but there are quite a bit of things you have to do and information that you need to fill. For example, you will be asked to tell GoDaddy about your personalized experience and whatnot.
Organization
– Because GoDaddy has purposely designed its online bookkeeping program to be simple, it does not incorporate a lot of features – which means you don't really have to organize anything. The tabs presented at the top of the page include Overview, Income, Expenses, Invoices, Time, Taxes, Reports and Manage. It is pretty easy to figure out what to do.
Guidance
– The program is quite easy to understand and follow through from the initial stages of setting it up. However, GoDaddy does provide users with step by step guidelines on how to proceed and learn new features of the program. So, it is pretty navigable and flexible from the moment you start it.
Accessibility
GoDaddy's Online Bookkeeping is the perfect option for small business owners looking to streamline their business accounts and financial undertakings.
And there are plenty of features in the programs that can help you easily manage your day to day expenses, calculate taxes, integrate sales sheets and importing bank transactions.
More GoDaddy Ressources
Check out our
Godaddy Review
for company backgrounds. And check out our
GoDaddy Dedicated Server Coupon
page for more useful coupons to save you cash.